Roll over image to zoom in
Description
100% boiled wool (soft & breathable)
Latex footbed (strong arch support)
Felt sole (low-noise & floor-friendly)
Thin latex coating (anti-slip effect)
When the cold weather comes round again, and you need to pick out another pair of warm house slippers, you will never go wrong with the Haflinger brands. HAFLINGER® Wool Scuff Knut Slippers rank among the best house slippers for cold feet, because of the 100% boiled wool fabric they are made from. These unisex wool slippers have fantastic thermal insulation, but are still breathable, drawing sweat away from your feet and releasing it into the air 7 times faster than synthetic materials. That's not all; the soft felt sole moulds the shape of your feet, keeping them nice and warm - no more 'cold feet' syndrome in these slippers. And because the felt sole also has inherent arch support, your feet get adequate support needed for good walking posture. Haflinger have also considered safety by incorporating an anti-slip latex coating on the sole, allowing you to transition from bedroom to bathroom, kitchen to patio comfortably.
HAFLINGER® Wool Scuff Knut house slippers keep it simple and functional with this brand: With an open heel and roomy rounded toe-box, these no-fuss slippers are easy to wear, whether you are coming home after a hard day's work or just getting out of bed - just slip them on and go. To keep them trendy, these slippers come in funky colour-blocking combos, such as beige on black, and dark blue on green. So they are versatile enough to be worn either by men or ladies, allowing you to get them as gifts for your whole family.
Customer Reviews
01/04/2020
Anonymous
United States
I recommend this product
Great quality and fit
I was surprised the order was coming from Germany and a little worried it would not arrive by Christmas. I ordered about 14 days before the 25th and sent a note to the email in my confirmation. They assured me that it should make it and it did, a few days early! Quality and fit were great, hubby loves them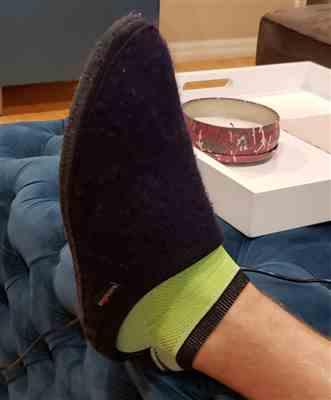 Payment & Security
Your payment information is processed securely. We do not store credit card details nor have access to your credit card information.
Customer Reviews
01/04/2020
Anonymous
United States
I recommend this product
Great quality and fit
I was surprised the order was coming from Germany and a little worried it would not arrive by Christmas. I ordered about 14 days before the 25th and sent a note to the email in my confirmation. They assured me that it should make it and it did, a few days early! Quality and fit were great, hubby loves them